On 15th May, 1995, gathered in Lisbon, the Spanish, French and Italian ministers of Defense and Foreign Affairs signed together the founding treaty of the European Maritime Force (EUROMARFOR); Portugal joined them a few months later. Inspired by the Petersburg Declaration (1992), EUROMARFOR is a strong and new military partnership between four European Union nations that are also members of NATO.
For 28 years, the allied naval force has carried out missions of maritime security, humanitarian aid, and crisis management at sea.
In September 2021, Spain took command of the force. The commander of EUROMARFOR is the current Commanding Officer of the Spanish Fleet, Admiral Eugenio Díaz del Río.
Beyond regular and annual trainings at sea between the four allied navy forces, EUROMARFOR has participated in several important operations during its history. EUROMARFOR has been deployed against terrorism in the Mediterranean Sea in 2002 (Operation COHERENT BEHAVIOUR) and Gulf of Aden between 2003 and 2005 (Operation RESOLUTE BEHAVIOUR), to support United Nations peacekeeping mission in Lebanon (UNIFIL) in 2008 (Operation IMPARTIAL BEHAVIOR), against piracy in the Indian Ocean between 2011 and 2016 in support of the European Union (Operation ATALANTA), and again in support of NATO for maritime security in central Mediterranean Sea in 2020 (Operation SEA GUARDIAN).
During the two years Spanish Command, below the lead of Admiral Díaz del Rio, once more, EUROMARFOR showed that is an active and singular participant in the maritime security, particularly in the Mediterranean Sea, that is considered a strategic area for Europe.
Now, EUROMARFOR is also directing its effort to contribute to maritime security in the Gulf of Guinea (GoG). The main objective, will be the contribution to Maritime Security, improve knowledge of the maritime environment and develop the maritime capabilities of the coastal countries, always in coordination and support of EU initiatives. Regional partners and coastal countries can count on EUROMARFOR availability to reinforce Maritime Security and the development of maritime capabilities.
EUROMARFOR is in fact, an original organization that gathers Spanish, Italian French, and Portuguese naval units in an easy and very flexible way.
Considering the wide range of missions that this force may be in charge with, its force will be assembled on a case-by-case basis and tailored to the mission and assigned tasks, ranging from a small Task Group to a large Task Force including aircraft carriers and amphibious groups, as well as a Maritime Component Command.
It means that this multinational maritime force is a non-standing but pre-structured force that is kept at a high level of readiness and can be activated when necessary, showing itself as an active and useful tool for member states, UE and NATO if/when required.
This 28th Anniversary has been celebrated in the best possible way, with the force activated to take part in exercise ESP MINEX-23.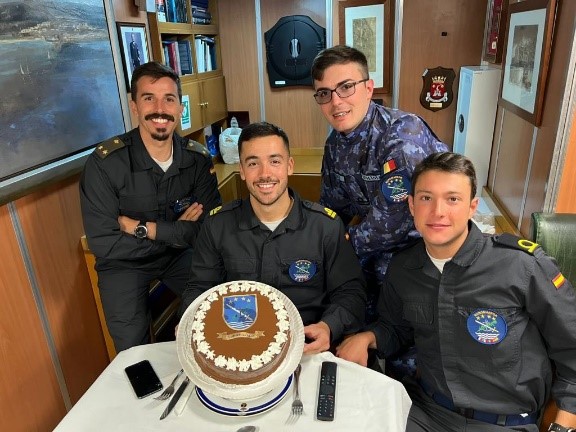 Congratulations to EUROMARFOR for its 28 years of success!
EUROMARFOR 28 YEARS AT SEA FOR PEACE